January 6, 2011 | In: Opinion
WilmerHale and Law Firms Stocks
Today I discovered that just owning a domain is a huge responsibility. Just owning the domain, let alone having a functional website on that domain. Here's the story, I bought this domain (I don't want to link to it directly in case it gets hacked another time) a couple of years ago, and I did nothing with it.
I completely forgot about it, until this morning, when I received the following email from one "Eric van Wijk":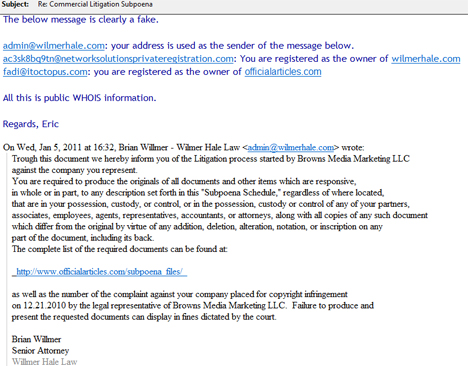 WilmerHale Phishing Email
I read the email twice, and then I clicked on the link to visit my website, the website looked normal to me, I thought the email I received was just spam with a random link, that happened to point to my website (I know, it doesn't make any sense, but neither does anything on the Internet). I then got out of my office, and returned to see a missed call from an area code 617, that's Boston. I don't know anyone there. I called the number back and it was the direct number of K.S. (I got his voicemail), the Internet Security Specialist of WilmerHale. I looked at my inbox and I saw an email from K.S. about some malicious spam circulating over the Internet, mentioning WilmerHale, and linking to my website. He also asked me (very kindly) if I can remove the malware from my website. I visited my website again, and to my surprise, it was hacked (it was trying to install a malware), that was around 12:21 PM. I cleaned it up immediately. I then called K.S. and informed him that the website is now clean, I then put the following message to explain the situation to those duped into clicking on the link: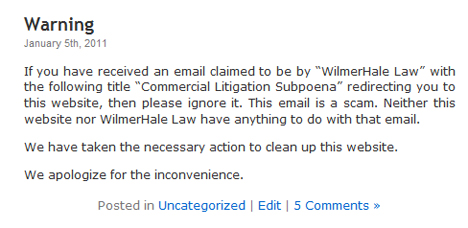 Warning Message Posted on the Infected Website
About half an hour later, I got a call from someone who seemed to be an executive at WilmerHale, who thanked me for my prompt actions, and then asked if I could give him the logs of that specific website. First I didn't want to spend too much time working on this, so I told him I will try my best. Thankfully, it was very easy for me to download the logs, so I did, and I emailed them to K.S., who was very thankful.
What's interesting is that they wanted the logs to see which IPs were duped into visiting the website, and then see if they can associate the IP to an individual's phone number, call that individual, and explain to him/her the situation (at this moment, they are probably also emailing all their clients and contacts, and they posted this warning on their website). I've never heard of a company that cares that much for its reputation.
I was thinking, can I think of one company listed on the NYSE, the NASDAQ or anywhere else that is that proactive when it comes to maintaining a great reputation. I couldn't think of any.
I then thought that law firms always make a lot of money (so it's definitely a great investment to buy their stocks), so I started searching to see if there are any publicly traded law firm, and here's what I found: none. There is not one single publicly traded law firm in the whole US market. Apparently, it's against the rules for a firm to sell its equities to non-lawyers because of a potential conflict of interest, but this might change, and whenever this happens, I'll be the first person to buy some WilmerHale stocks.