May 22, 2011 | In: Technology
Will RIM Go Bankrupt?
Before discussing the topic of this post, let's first examine RIMM for the last 6 months:

RIMM for the last 6 months
As you can see from the above, RIMM is stuck in a bearish hell since the beginning of March, after recovering from a near imminent death back in September. With a P/E of only 6.85 and an excellent worldwide reputation, one has to wonder, why are investors very harsh with this stock?
The answer lies I think with Research in Motion's vision, it hasn't changed at all since they invented BlackBerry, their flagship product. While change is not good when it comes to (good) ethics (if you're a good person you shouldn't embrace change and become a bad one), not embracing change can easily kill a technology company (remember Nortel and Palm)?
But how did RIM not embrace change? Well, for starters, in a world where everything is heading to open source and all companies are opening up to each other, RIM is sticking to Microsoft's approach: "Closed technology, and no open source". RIM is also still spending a lot of money on its hardware division that has been producing nothing but flops recently. The problem is that RIM is trying too hard to imitate Apple that it's forgetting to focus on its real cash cow, which is the BlackBerry Service. But how about BBM's future?
The problem with BBM is that it's only available on the BlackBerry phones, and seeing that interest in Android has almost caught up with Blackberry's (see the image below), that is not a good strategy at all.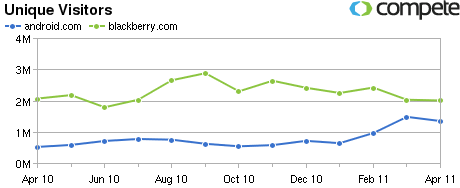 Android vs. BlackBerry (Android is in Blue, BlackBerry is in Green)
RIM insists on only providing the BBM service on its exclusive phones, but when everyone stops using their ugly and outdated phones, who will RIM be able to sell the service too? Imagine if RIM strikes a deal with Google and/or with Apple and/or mobile providers to provide the BBM service on Android phones, iPhones, and Symbian based phones (Nokia phones). Apple's market alone is 15 times that of RIM, is anyone at RIM aware of the huge potential this "opening up to others" represent for the company? Not only RIM would get out of this mess victorious, but will get out stronger than it ever was, maybe 20 times stronger! Imagine the BBM service available on every phone in every country all over the world, the BBM service will be the 21st century equivalent of the SMS (Short Messaging Service). For $15/month, anyone, anywhere, with any phone can communicate via text with anyone else in the world. It's amazing, yet RIM's management appears to be oblivious to this.
Is it too late?
Let's assume that Mike Lazaridis (RIM's CEO) wakes up tomorrow morning and reads my article, and thinks, wow, that's a great idea! I will open up the BBM platform to every phone in the world, and I will start making more money than ever. But, if he does this tomorrow morning (instead of doing it 2 years ago), will it be too late? If it's tomorrow then I think there's still a chance to save the company, but if it's in a year from now then RIM, at this point, will be past redemption. Apple, Google, as well as a myriad of other 3rd party companies are working day and night to provide a similar service. The question is, how much time will it take one of these companies to come up with a similar solution that is phone-independent? As someone with a programming and a telecommunication background, I can answer with confidence that RIM doesn't have a lot of time before a similar service is launched, and when this similar service is launched, then expect RIM's stock to be trading in single digits (e.g. below $10, yes, that's how bad it will get).
RIM should get its act together, immediately, and my advice for the investors is to jump ship, until RIM's executives wake up from their euphoria, and if they don't, then it's a certainty that RIM will go bankrupt in a couple of years, because it will simply become disconnected in an increasingly connected world.