April 2, 2012 | In: Technology
Will Groupon Go Bankrupt?
I have warned against buying GRPN back in August of last year. Back then, I have explained that Groupon cannot sustain the hefty customer (who may or may not be loyal to Groupon – after all, this is a coupon business, where customer loyalty is nearly 0) acquisition costs. Groupon was paying a lot to Google for advertising costs in order to acquire new customers – it has stopped these intensive marketing campaigns (that was the first red alert that the business model was not working) a few months after it started it (remember those ugly banners all over the place that made us think that Google was about to buy – or has already bought – Groupon?).
Now, let's go back to today's Groupon:
Groupon is still advertising, but not using the insane marketing model as before.
There are just too many competitors in the coupon business.
Groupon is shrinking.
Let me examine each point aside:
Groupon's advertising mode is no longer aggressive
Well of course! Don't you remember these terrible banners with the dinosaur that had something like RAWR…, they were all over the place. Now Groupon's advertising is limited to Google's targeted search and a targeted content network. What does this mean? This means that while advertising costs are lower, much lower on Groupon, new subscribers are also lower – which means decrease of revenue (the churn rate on coupon websites is really high because, again, there is no customer loyalty whatsoever – customers are loyal to Groupon as they are to the next coupon company). It's the chicken and the egg scenario: Groupon can't get subscribers without spending a lot of money on advertising, and can't advertise without making money from subscribers.
Too many competitors
Try typing the word "Coupon" in Google's search and you will be inundated with paid ads for coupon websites, such as dealfind, livingsocial, teambuy, etc… These competitors are growing and their business model is much better than that of Groupon because they rely a lot of traffic from social networks.
Groupon is shrinking
Whether it's due to the first point or the second point, it is now a matter of fact that Groupon is shrinking when it comes to traffic. While its traffic reached a high of 33 million US uniques back in June, it has now decreased to merely 14 million US visitors, which is 40% of its traffic a year ago. Take a look at the below graph: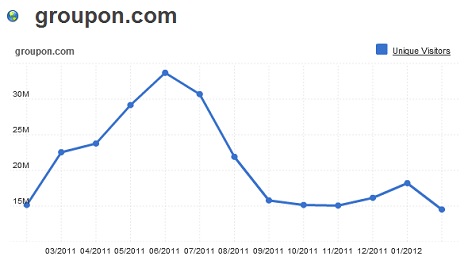 groupon.com's traffic for the past 12 months – notice the decreasing trend (courtesy of compete.com)
If the trend continues, then Groupon will lose 50% of its current traffic in 2012, and then lose another 70%-80% of its traffic in 2013, etc… Groupon will definitely be the equivalent of MySpace in the coupon area.
In my opinion, Groupon is currently just another RIM – there is nothing – absolutely nothing – that can save it at the moment, the only thing that they can do right now is to kick the can forward (by spending more money and exhausting all the credit that they have or can have), until large investors notice what's going on. There is no sane bank or investor on this planet who will agree to lend more money to Groupon based on their current balance sheets. To answer the question in the title of this post – yes, Groupon will go bankrupt, and I suspect they will file for chapter 11 in 2013 or 2014.
By the way, this latest farce with the mistake that they made in their balance sheets is the first in many, many farces to come. Jump ship now or else you'll regret it. I am confident that this stock will close the year as a penny stock (below $5) – that is, if GRPN remains listed.
The nice thing about public companies that consist of websites is that the performance can be easily guessed based on their traffic (along with a combination of public information – such as increased/decreased spending). I still don't understand how come most investors don't even check the traffic for the websites of these companies before investing in them.
PS: GRPN is down today for nearly 12%, and will most likely close at around $16.
This article (as well as all other articles on this website) is an intellectual property and copyright of Fadi El-Eter and can only appear on fadi.el-eter.com.