January 18, 2012 | In: Opinion
Should Wikipedia Be Penalized by Google for the Blackout?
I think whoever is going to read this article is going to immediately ask 2 questions:
How can this have anything to do with stocks?
Huh?
The answer to the first question that while on the short term it has nothing to do with stocks, on the long term it does, and here's how: Wikipedia is one of the world's most visited websites, it is #6 according to Alexa (worldwide) and it is #7 in the US, according to compete.com. As we all know, Wikipedia does not allow advertising on its main website or its network of websites, and rather prefers to beg from its users to cover its expenses. It is easy for Wikipedia (including its network of websites) to make at least $100 million in advertising a year if it places Google ads on its website. So, what if Google diverts the traffic from Wikipedia to other websites (that will most likely will have ads) if Wikipedia continues to have intentional blackouts? This means that Google's revenue will increase (Google revenue will increase by at least 2 times the amount that Wikipedia will get), which means that Google's stock, GOOG, will increase in price (the increase will be about 3% for the $200 million in extra revenue).
Now, before answering the second question, let me explain. Apparently Wikipedia is having a blackout today (January 18th, 2012) to protest a decision that will (according to them) limit the freedom of the Internet. The decision is to be approved by the US congress (but it still to be approved). Wikipedia is using its weight as an extremely important website to bring attention to this matter. Wikipedia can afford to do this because it doesn't have any stockholders. Google, Yahoo, and others, who are also protesting the decision, cannot afford to make a blackout decision for even an hour (they will paralyze the whole Internet and their stockholders will be wrathful).
Now why am I saying that Wikipedia should be penalized by Google. Well, here's why… Google's golden rule for websites that every webmaster worth his salt knows is that you cannot display information to visitors other than that fed to search engines. Now, when you visit Wikipedia, you will see this page: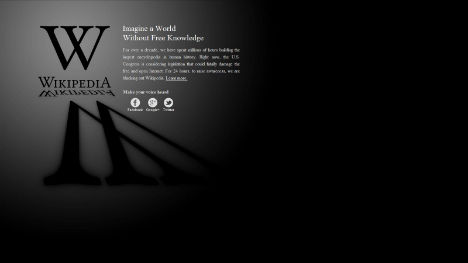 Wikipedia Blackout – January 18, 2012
However, further examination of the code reveals that the blackout screen is done through JavaScript. Disable JavaScript code on your browser, and try to visit Wikipedia, you will be able to see it normally. But why is Wikipedia doing it this way, instead of doing at the web server level (redirecting to a static blackout page). Well, if it does in a different way other than using CSS or JS, then all of its pages will be most likely marked as unavailable for Google (Google is very fast at indexing Wikipedia, so it might catch the difference instantly and apply it to its indexes), and then traffic will suffer for a while.
In my opinion, Wikipedia should be penalized for displaying different information for users and for search engines. It should also be penalized for the blackout (as a blackmail concept) as well. Holding back public information just to push your political agenda should not go unpunished.
That's my opinion, and I know that many will disagree, but I least I have expressed myself honestly and transparently…
This article (as well as all other articles on this website) is an intellectual property and copyright of Fadi El-Eter and can only appear on fadi.el-eter.com.