August 28, 2010 | In: Services
MCD (McDonald's): A Great Stock for Good Times and Bad Times
I went yesterday for quick bite, and there's nothing quicker then McDonald's, which is conveniently located a few blocks North East from where I work. I ordered a "combo", and one of their wraps. I started eating, it wasn't really a feast, but I jut wanted to fill myself.
I then started thinking about McDonald's as a business, in good times, people will have more money, and they eat there instead of preparing their lunch at home. In bad times (like in these days), people who are used to go to fancier restaurant start going to McDonald's to save a considerable amount of money per month.
If you look at MCD chart for the last 5 years (courtesy of Yahoo finance), you will notice that the stock was unaffected by the crisis in 2008-2009.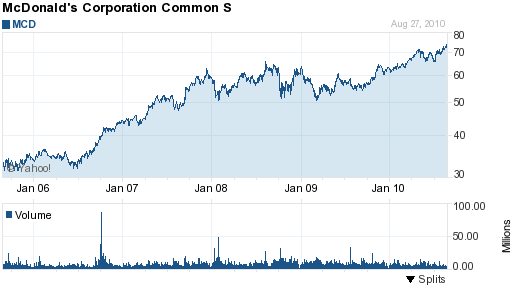 How many stocks do you know of went down only 10% in March of 2009, and fully recovered in a couple of months? And the 10% drop had nothing to do with the fundamentals of Mc Donald's, it was just investors panicking!
MCD is bullish short term, and very bullish medium and long term, with an RSI of 65. Why shouldn't it be, the company is multinational, it has operations nearly in every country, and in a lot of countries business went actually up during the crisis of 2008-2009. The fundamentals are great, and the customer expectations are low (they just want a quick meal).
The only thing that can bring MCD down is a big scandal, but until that happens, the stock will continue to go up. This stock is ideal in both good times and bad times. It doesn't fluctuate a lot, and it always goes up.