January 22, 2011 | In: Opinion
Investing in Social Networks: Is It a Good Investment?
Currently there is so much excitement among investors about the potential of social networks. But are social networks a good investment?
To answer this question, let's examine the social networks, and other related web products that emerged (and maybe fell) in the past few years…
MySpace: MySpace was launched in 2003, and it was bought by NewsCorp in 2005 for $580 million. By 2006, it became the most visited social network, but it was overtaken by Facebook in 2008 (5 years after its launch). The website's one page per use page model is stupid, and its (remaining) audience consists mainly of teenagers (who are migrating by the droves to Facebook everyday). MySpace's traffic is in free fall (down 40% YOY):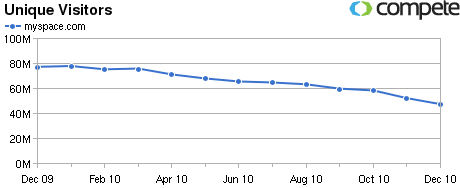 MySpace Traffic – It will get much, much worse! – (courtesy of compete.com)
Bebo: Bebo was established in 2005, and it was, at one point, a very popular social website. Bebo suckered AOL into acquiring it for $850 million (in cash money) in March of 2008. A year and a half later, AOL would sell (or get rid of) Bebo for just $10 million after a consistent drop in traffic month over month (Bebo was losing traffic to Facebook), and failure to properly monetize the traffic (I wonder who, from the AOL's team, did a due diligence on the company). AOL's return on investment was: -99% (that's minus 99%). Yes, I agree, it wasn't a smart investment.
Ning: You can think of Ning as a (horrible) website builder and a (hideous) social website at the same time. The idea of Ning is that a group of people with similar interests would create their own website, and friends and fans would connect to it. Ning's business model was first mainly based on Google ads, and the hope that some of their accounts would upgrade to their premium service, where they would get an ad-free website and/or they would get their own domain. Ning was very hot back in early 2008, and it managed to get over a $100 million in venture capital. Ning's traffic reached its peak in April of 2010, but the CEO thought it was too good to be true, so he decided to offer all the Ning accounts an offer they can easily refuse: Upgrade to our premium account, or get the hell out. Ning's traffic dropped by 45% since they made the decision (obviously, most Ning members chose to refuse):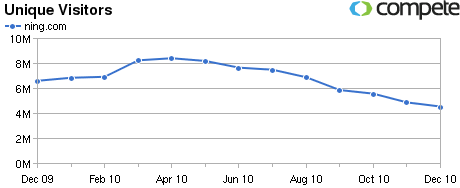 Ning Traffic – "Sudden drop" after April of 2010, I wonder why! (courtesy of compete.com)
Twitter: Twitter started as a good idea when it was launched back in 2010. In 140 characters or less (to make sure it fits in an SMS), describe what you're doing. But the lack of a smart way to monetize the traffic is slowly killing this social website. Not only that, Twitter is buggy (often it tells you the wrong count of "new tweets"), and the hardware still can't cope with the traffic. Twitter's traffic has increased year over year, but has started to experience a consistent decline after it peaked in July of 2010. Twitter is also full of spammers and scammers. Twitter is by far the easiest (large) social website to reproduce.
There are literally dozens of examples demonstrating the short lifetime of a social website (take a look at this list of social websites to see how many of them are still in business) especially after it becomes funded by outside investors (maybe because they try to force their vision on the product). All websites on the planet right now, with the exception of very few (such as Google, and maybe Facebook) can be cloned, and can be bettered by other websites with fresher design and ideas, that are more appealing to people.
Investing in social networks is very risky, and it's definitely not long term. There may be a Groupon IPO (or not, if Google really bought Groupon), a LinkedIn IPO, a Twitter IPO, and a Facebook IPO by the end of the year. But will Groupon, LinkedIn, Twitter, or even Facebook still exist 5 years from now?