GOOG fell down sharply today, nearly $27 or 4.5%, on the news of a European Antitrust Investigation and the rumors of the closing of Groupon deal, which someone at Google, thought it was worth $6 billion, and apparently managed to convince others that it's really worth that much.
So I went to Groupon (I refuse to link to this website) for the first time in my life to see what it was, and why is it worth $6 billion, here's what I saw: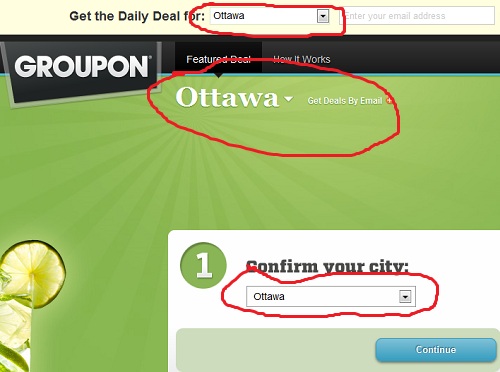 Groupon Snapshot
The image before looks great, with the exception that I'm not visiting from Ottawa, I'm visiting from Montreal, which is by all standards at least the third more important city in Canada, and far more important than Ottawa, unless you work for the government (Ottawa is known to be the playground of all government jobs in Canada). Now of course this is nothing, but for $6 billion, you'd expect perfection, and also, for $6 billion, you'd expect most people in North America to know about this site, today was my first visit, and my background is completely technical. For some reason, this deal sounds like the AOL-Bebo one a few years ago, which ended with AOL's sale of Bebo for a fraction of the original amount (just over 2 years after they bought it). I bet that Groupon's CEO will be muttering the word "Suckers" all the way to the bank, just as the Bebo's CEO(s) did a few years ago. Most investors believe that the rumors of this deal is the one behind this huge punishment of GOOG today.
Now let's go back to the European Antitrust Investigation, which is more or less a sort of 21st century blackmail of an American company operating in Europe. Pay us money, or you can't operate here. They did it (among many others) with Microsoft, they did it with Intel, and now they're doing it to Google. Here's the story…
Apparently, the EC (European Commission) is investigating Google for "unfair practices". They claim that Google block Adsense publishers from displaying ads from 3rd party. Well, in Google's defense, almost all of the other advertising networks have scammy ads (you know, ads like teeth whitenining, acai juice, scammy competitions benefiting mobile operators, etc…). Google just doesn't want to be associated with these ads (if you see a Google ad on a web page, you assume that all the other ads are from Google, and other advertising networks strive to make their ads similar to Google's to deceive the potential buyer). Additionally, Google does allow publishers to have other ads displaying on their web pages, as long as those ads are not "context sensitive". Google, when it comes to this issue, is doing the right thing in my opinion, and it is very fair, not to mention that Google is, by far, the highest paying advertising network out there. Now who's practicing these "unfair practices" now? It seems to me that it is the EC.
Today was a very bad day for Google, and I think that the stock might slump to the $500 level (which may be as early as next week) before rebounding again. The European thing will be solved by a bribe (call it a tax) that Google (the cash cow) has to pay to inject some billions into the much needy European economy. The Groupon thing, despite what others might think, should not happen, investors just don't want it. The billions spent on this idiotic website will be much better spent elsewhere, maybe buying large stakes in a much, much better website. But then again, apparently money, especially when it's in the billions, can burn a hole in your pocket.